XPAT
Design

the tool for monitoring designs

In addition to the classic property rights such as patents and utility models, designs (registered designs) have also found their way into the XPAT product family. Using the "grabber technology" already known from XPAT, it has become possible to transfer competitors' designs into an internal database. XPAT Design is a tool for monitoring your designs.
Concentration on the essentials instead of a flood of data
In XPAT Design, the required design documents are included, which you would otherwise look at purely manually for your work. The grabbers help to transfer these documents conveniently into your own database. Commercial data can also be transferred to XPAT Design. In principle, all sources that can provide structured, machine-readable and unencrypted formats come into question.
XPAT Design integrated with XPAT File (IP Management)
XPAT Design is fully supported by the mechanisms of XPATSDI with the creation of automated search profiles for loading documents in rotation. Likewise, XPAT Design is also anchored in the XPAT record with all its functions via the "Design" record type.
Classification of data by file number and classifications
Especially in the area of designs, it is quite difficult to distinguish documents from each other purely by searching. Often you have to actually look at documents to be able to judge them. For this purpose, XPAT Design offers the possibility to classify, comment and thus classify the design data itself. One uses one's own terminology and in this way can access the information better and more accurately. All classifications and categorizations are searchable.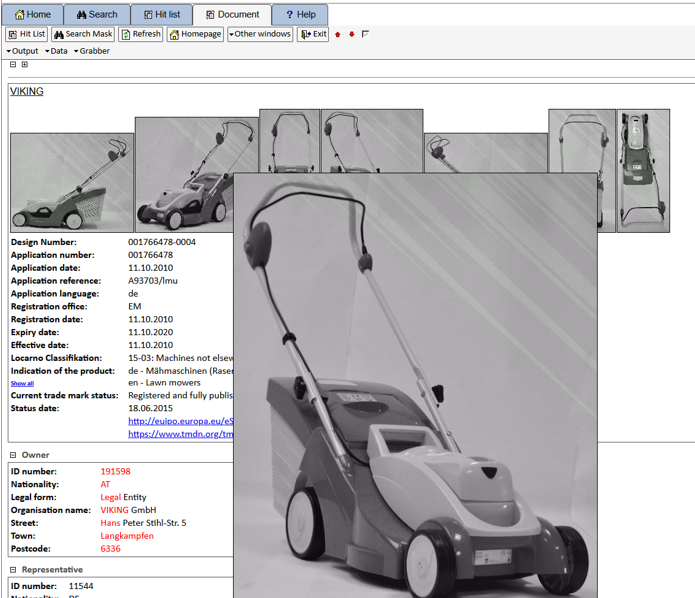 XML exchange formats at the push of a button
XPAT file support
SDI connectivity
Search queries Design View (TM)