XPAT
Design

the tool for monitoring designs

In addition to classic intellectual property rights such as patents and utility models, designs (registered designs) have also found their way into the XPAT product family. Thanks to the "grabber technology" already known from XPAT, it has become possible to transfer competitors' designs and one's own designs into an internal database using this design tool. This makes it very easy to monitor your own designs with those of competitors.
Concentration on the essentials instead of a flood of data
In XPAT Design, the required, own design documents are included, which one would otherwise have to isolate from the large quantities of designs for each review and view online for one's work. The grabbers help to transfer these documents conveniently into your own database. Here one has then all bibliographic data of the actual design document available. But also commercial data of other design - data providers can be taken over additionally into XPAT Design. In principle, all sources that can provide structured, machine-readable and unencrypted formats can be used.

In XPAT Design, documents from a competitor can be loaded and the documents can then be easily compared with each other. In XPAT Design, it is easy to build a hit list that contains only the relevant documents to be compared. There is no need to look through hundreds of design documents if you proceed systematically when loading the documents and use the classification options.
XPAT Design integrated with XPAT File (IP Management)
XPAT Design is fully supported by the mechanisms of XPATSDI with the creation of automated search profiles for the regular loading of documents. Likewise, XPAT Design is also anchored in the XPAT file with all its functions via the "Design" rights type. All data relating to the design file can be entered here. All costs, the addresses of the lawyer, corresponding contract documents, legal disputes, the correspondence around the file and even a connection to a fee service provider or lawyer.
Classification of data by file number and classifications
Especially in the field of designs, it is quite difficult to distinguish documents purely by searching. Often you have to actually look at documents to be able to judge them. For this purpose, XPAT Design offers the possibility to classify the design data itself, to comment on it and thus to classify it in a searchable way. In doing so, one consistently uses one's own terminology. The descriptive terms for shapes and colors, which one has worked out oneself, are certainly easier to search for than would be possible online via the rough classification. In this way, one can access the information better and more accurately and ultimately save time. All classifications and categorizations are of course searchable in XPAT Design.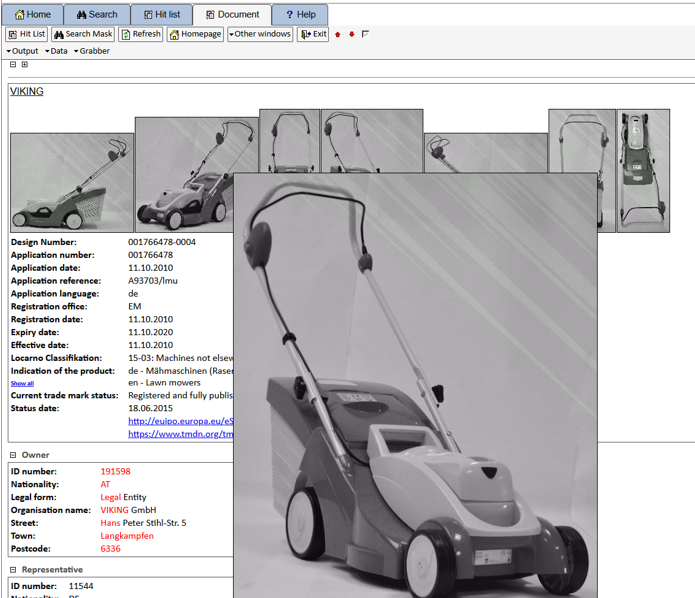 XML exchange formats at the push of a button
XPAT file support
SDI connectivity
Search queries Design View (TM)