XPAT
IP Meeting

- the tool for organizing patent meetings

XPAT IP Meeting helps to organize, conduct and document meetings to discuss documents from XPAT (patents, literature), XPAT File, XPAT Trademark, XPAT Design, XPAT RecDoc or XPAT Assessment.
Communication within the development teams and with the patent department
What actually comes AFTER the patent circulation? Companies in which it has been realized how important, how essential their own handling of the patent situation in question is, usually operate an internal patent circulation. Often, a committee is created to discuss certain documents that are due for decision. Documents can be commented on, tasks for committee members can be assigned and monitored, and meeting minutes can be generated.

Once the documents have been evaluated, the question of "what happens next?" arises, i.e., decisions have to be made on how to deal with important patent documents. In most companies, this is not a question for just one individual in the patent department, but usually a team effort between developers, department management and the patent department. There is the need for a tool for organizing IP meetings.
Coordination of own measures
Teamwork must be organized. The best way is to discuss in a coordinated way in the group. XPAT IP Meeting collects the relevant documents that you want to talk about at the meeting in the panel and invites the participants to be invited by e-mail. The candidates for the meeting can easily accept or decline the invitation. Since the invitation to the meeting is sent with a meaningful agenda, each participant has the opportunity to prepare for the meeting accordingly.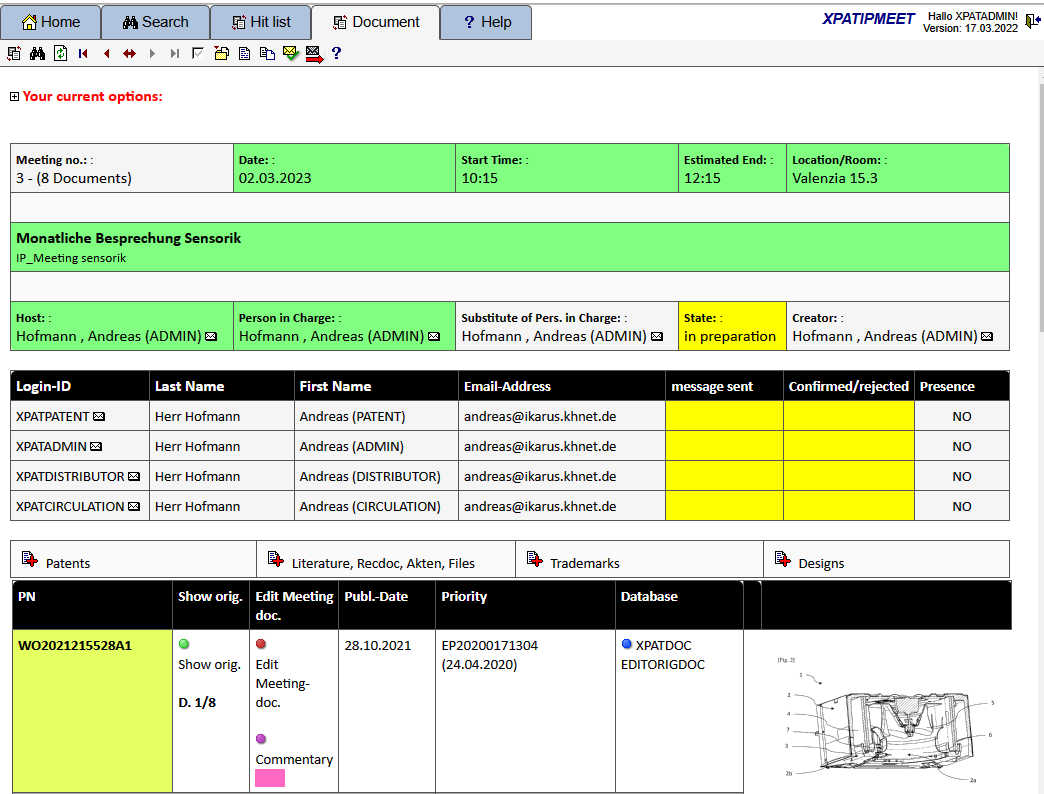 Organization of patent meetings
The organizer sets the time, duration, location, topic and date of the meeting. After the group of participants has been determined, documents from various areas can be assigned to the meeting. This can be done from the relevant database or documents from the databases can be transferred to the meeting from the meeting. Once everything is planned, the participants are invited together with an agenda (including the document list). During the meeting the participation is logged. After the meeting has been completed, it can be post-processed. After the meeting is over, a protocol is sent to the participants.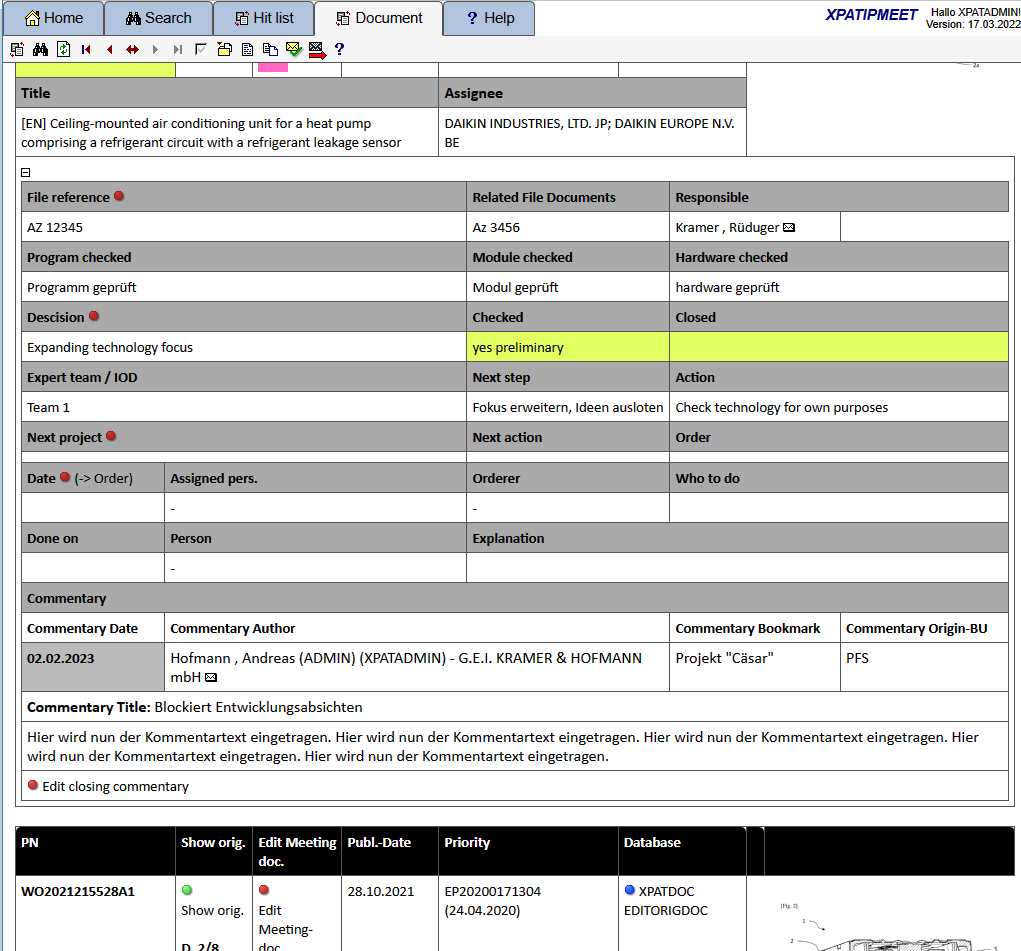 Documentation of meetings (committee meetings) in XPAT
XPAT IP Meeting bridges the gap between patent circulation and the initiation of opposition proceedings, the decision to drop an IP right and the initiation of the development of a workaround or the decision to start licensing negotiations. Often, it is also a matter of determining that more precise and detailed research is needed. All of these actions are documented in XPAT IP Meeting. This information is available in the follow-up.
Direct linking of all documents to their meetings
Documents visible and editable from within the meeting
Definition of tasks in workflows, controlled by the system
Electronic invitation by e-mail, acceptance or rejection via link
New invitation in case of postponement - Information in case of cancellation
Attendance documentation - Sending minutes